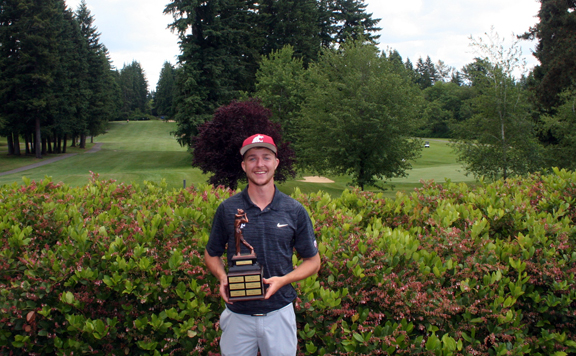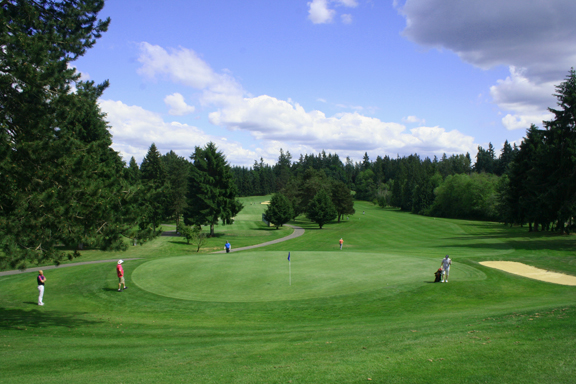 Thank you to everyone that participated in this year's Bellevue City Amateur, and congratulations to our 2017 champion, Brian Mogg.
WSU's Mogg, who won in 2012 and placed third last year, came into the final round tied for the lead at 7-under-par with Charles Lee. But it was Derek Lee (-3 after the first round) that shot 7-under-par through his first 13 holes on Sunday to catch Mogg, before dropping two strokes on the way to the clubhouse. His five-under-par round left him two shots back of Mogg, who shot three-under in the final round to hold off Lee and take home the trophy.
First round co-leader Charles Lee's even-par round earned him a third place showing, with 2014 Bellevue City Am Champion Li Wang finishing fourth and Gabe Lysen rounding out the top five. Gonzaga's Chris Mogg tied Lee for the low round on Sunday with a 5-under-par 66.
We would also like to congratulate Joshua Yap, Scott Miller and Drew Hubbard (second flight) and Kevin Albee (third flight) for their net-score victories in their respective flights.
The payouts and complete final results are below.

​With your help and continued participation, we look forward to growing the Bellevue City Amateur and making it a must-play tournament for the best local amateurs and for all golfers that enjoy competition. This year's field was strong and included four past champions and some great high school and college talent. We hope to see you out here for next year's tournament.

Once again, thank you to everyone that played.

2017 Bellevue City Am Final Results (1st Flight)
2017 Bellevue City Am Final Results (2nd Flight)
2017 Bellevue City Am Final Results (3rd Flight)
2017 Bellevue City Am Payout
___________________________________________________________________________________
Saturday, June 10th and Sunday, June 11th
Eligibility: Open to all amateur golfers with a USGA handicap index of 25.0 or less
Format: Individual Stroke Play over 36 holes
Entry Fee: $125 (includes 2 rounds of tournament golf, prize fund, and range balls each day before round)
Entry Deadline: June 6th at 5pm (late entries will be accepted until June 9th only if space is available)
Starting Times: From 7:00 am to 12:00 pm each day, at 10-minute intervals
Practice Rounds: Practice rounds may be scheduled at any time prior to the tournament (applicable fees apply).
Performance Points: WSGA Performance Points will be awarded to the Champion (10pts) and Runner-up (5pts). Points are used to select Washington players for: Player of the Year, Hudson Cup, U.S. State Team Championship and the PNGA Cup.
Fine Print: There will be a Championship Division and two handicapped Flights with approximately 40 players in each flight. The championship flight purse will pay 75% Gross and 25% net. The 2nd & 3rd Flights will pay 75% Net and 25% Gross. The overall lowest Gross score will be the 2017 Bellevue City Amateur Champion.
The Championship and 2nd flight will play from the Championship tees, the 3rd flight will play from the Blue tees, and women will play from the white tees.
Pairings and tee times will be available on June 7th after 3pm. Times will be emailed, posted on our Facebook page and posted to our website - www.bellevuepgc.com.

Caddies are allowed and spectators are encouraged.
Distance finding devices will be allowed

All payouts are issued as merchandise credit to be used in the Bellevue Golf Course Pro Shop.

Any cancellations within 48 hours of the tournament will be non-refundable.

Questions? Contact Troy Rodvold - trodvold@premiergc.com or 425.452.7250 ext. 4